Pennsylvania State Prayer Coordinator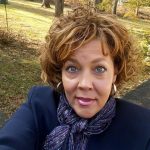 Helen Joy Duperee
Phone: 484-795-8854
Email: iamgoingtoisrael@gmail.com
Helen is now privileged to be part of The Warrior Class with Graham Cooke. She is also part of the Prayer Room at Capstone Legacy Foundation and is lead intercessor for Key Fellowship.
She does a live prayer cast on Facebook each week, where she prays with people who come on for prayer.
And most recently, she became PA State Prayer Coordinator for Aglow International.