Everyone welcome! Come to a Lighthouse meeting. Powerful Worship. Dynamic speakers. Prayer for healing, salvation and deliverance from fear and oppression, be filled with the Holy Spirit. Great fellowship with other believers. Come and be ministered to. Come to GROW IN THE LORD.
Mesa Lighthouse
Date: 1st Saturday of the Month
Time: 9:30 AM
Contact: Pam Brown 661-809-8923
NO MEETING IN JULY 2021
Prescott Lighthouse
Date: 3rd Saturday of the Month
Time: 10:00 AM
Contact: Judy Oakley 928-713-0984
West Valley Lighthouse
Date: 2nd Tuesday of the month
Time: 9:30 AM Sun City West.
Contact: Karen Pollard 509-961-9571
NO MEETING IN JULY 2021
There are many virtual and phone opportunities to pray- so bring victory into the atmosphere of your life by getting on one of these powerful Prayer calls or virtual meetings.
Prayer Ministries
Monday night Israel -Islam Prayer call: 7 PM AZ time 712-775-8896 Access code 754-058
Tuesday night Southwest Region Prayer Call: 7:30 PM AZ TNime 515-604-9099 Access Code 656768479#
NEW AREA WIDE PRAYER TEAMS 1X1 & 2X2'S. PARTNER WITH SOMEONE CLOSE TO YOUR AREA TO CONNECT WITH IN PRAYER BY PHONE OR IN PERSON. IF YOU HAVE A PARTNER E-MAIL MARTY WITH BOTH OFYOUR INFO SO I CAN PUT YOU ON THE FIRE MAP. OUR GOAL IS TO GET TWO PEOPLE IN EVERY COMMUMITY TO COMMIT TO PRAYER MONTHLY. IF YOU NEED A PARTNER WE'LL HELP YOU FIND ONE- MARTY.
LIGHTING LITTLE FIRES OF HOLY SPIRIT PRAYER IN THE STATE. PAS IT ON!
If you have an Aglow Event or prayer call you would like posted on Arizona Central Area page, Contact us. AZcentralareaAGLOWpr@gmail.com
Aglow Capital Prayer
Aglow AZ Capital Prayer meets every third Wednesday at 10:00am
Arizona Capitol Museum
1700 W Washington Street
Phoenix, AZ 85007
Starting June 2021 Prayer will be by conference call and not at the Capital.. 657-390-7605
State Prayer Coordinator: Debby Brawner debbyaglow@cox.net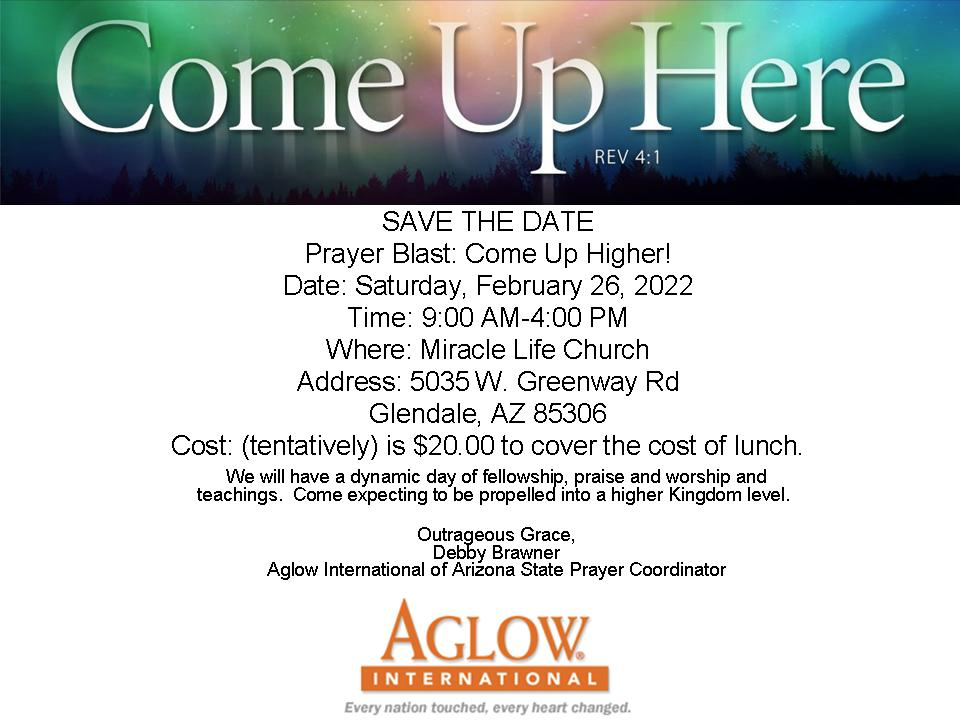 Outreaches

LIFE/GAME CHANGERS & BIBLE STUDIES
Lifechangers CLASS STARTING JUNE 25,2021 IN PERSON AT DARLENE JENKS. CALL: 651-334-3976 GameChangers:Leadership Training (NONE SCHEDULED AT THIS TIME. : Grow in who God says you are in His word. Facilitated by Leaders
TRAUMA Healing Training: How can the wounds of our hearts be healed? How to take your pain to the cross.Trauma Healing Equipping Sessions of ABS-Trauma Healing Institute October 24-29, 2021 SEE MORE ON THE EVENTS PAGE.
Transformations: Learn to share the Gospel of Jesus Christ. Discipleship training & Evangelism. SET YOURSELF FREE DELIVERANCE CLASS JULY 10 &17
Stay tuned for details on upcoming outreaches.